Degree Programs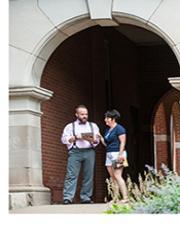 UDTS offers three graduate theological degree programs: the Doctor of Ministry (D.Min.), the Master of Arts in Mission and Discipleship (MAMD), and the Master of Divinity (M.Div.). The D.Min. is designed to equip pastors for congregational renewal. The MAMD trains followers of Jesus to empower others to join in God's mission in a variety of settings. The M.Div. roots leaders in the Scriptures, tradition, and practices of the church with an overarching focus on building missional communities that form fervent disciples.
The majority of our students are enrolled in the M.Div. program, either as residential or distance students.
Dubuque Seminary also provides two special programs for non-traditional students without an undergraduate degree. The 3/3 program enables qualified students to complete a Bachelor of Arts degree and a Master of Divinity degree while engaged in mission or ministry. The 3/2 program provides for completion of both a Bachelor of Arts and a Master of Arts in Mission and Discipleship while engaged in mission or ministry.
Click on the links below to learn more about the goals and requirements for each of our graduate degrees.
---
Master of Arts in Christian Leadership
Beginning in 2015 the University of Dubuque launched a new degree, the Master of Arts in Christian Leadership. The Master of Arts in Christian Leadership is a 30-credit, completely-online degree that strengthens Christians for service in their chosen vocation. The degree nurtures biblically and theologically informed, culturally sensitive leaders for the church and world. The program requires six credits in Christian Scriptures, six credits in the history of Christianity/Christian Doctrine, three credits in Christian mission, six credits in Christian leadership, and nine credits of electives. You will learn from experienced online teachers who are devout Christians and passionate about preparing you for Christian service. The degree is offered through the University of Dubuque Graduate Program, fully accredited by the Higher Learning Commission/North Central Association, and can be completed in as little as one year. A bachelor's degree in any field is required for admission. For more information: CLICK HERE
---
---
Watch the video below of UDTS Distance M.Div. Students: "In their own Words"