Message from President Bullock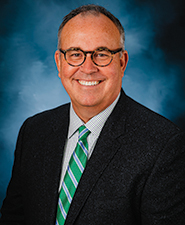 Welcome to the University of Dubuque Theological Seminary (UDTS)!
UDTS is one of the very few seminaries in America that is embedded in a vibrant and growing University setting. This larger University setting enables us to experience the world, in all of its complexities; from interacting with undergraduates over a coffee at Sylvia's Common Ground to cheering at a football game to leading worship at the undergraduate chapel, opportunities abound for seminarians who want to be immersed in the larger culture—our mission field. For most of our history, UDTS has been a faithful presence in the preparation of men and women for ordained pastoral ministry. Over the last decade, our seminary has become a leader in distance education, both in the credentialed MDiv/MAMC degrees and in a variety of certificate programs, such as our CRE training, which has prepared more laypersons for faithful congregational service than any other program in the country. Our program produces men and women of faith who serve Jesus in congregations, who plant house churches, who share the gospel as athletic coaches and who serve as social entrepreneurs.
Ministry and mission all in service to Jesus Christ is at the center of who we are as a community of faith, worship and inquiry. We look forward to welcoming you to our faith community, and to helping prepare you for the ministry to which you have been called.
Sincerely,