UDTS Welcomes Louisville Institute Fellow
Sep 19, 2018 | University Relations staff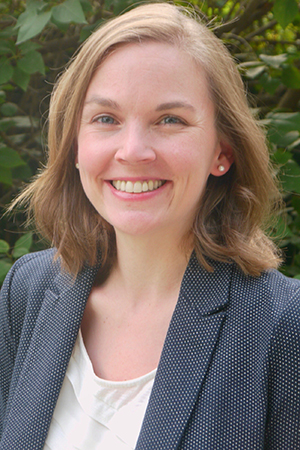 DUBUQUE, Iowa – University of Dubuque Theological Seminary welcomed Mary Emily Duba to the seminary faculty earlier this year. Duba, a 2018 Louisville Institute Postdoctoral Fellow, will be a visiting assistant professor of theology for the next two academic years.
"Mary Emily is the first Louisville Postdoctoral Fellow that University of Dubuque Theological Seminary has hosted. We're delighted to have the opportunity to work with such a gifted scholar and teacher," said Annette Huizenga, dean of seminary and associate professor of New Testament.
Duba will teach graduate and undergraduate courses both online and in the classroom. She will also collaborate with other faculty on the seminary's revision of the undergraduate Christian Studies major.
Duba earned her PhD in theology from the University of Chicago Divinity School, and she defended it in June 2018. Her dissertation, titled "God is Here: A Theology of Place and Displacement," reimagined the central symbols of the Christian faith – Trinity, creation, cross, and church – in light of human attachments to place and experiences of displacement. Duba holds a master of divinity from Yale Divinity School, a bachelor of arts from Seattle University, and a certificate in the Craft of Teaching in the Academic Study of Religion. She is the author of "Peacemaking and Nonviolence" in On Our Way: Christian Practices for Living a Whole Life (Upper Room, 2010). Duba formerly served on the editorial board for "Let's Talk," the theology journal of the Metro-Chicago Synod of the ELCA. In 2015, she was awarded the University of Chicago Divinity School Prize for Excellence in Teaching.
The Louisville Institute awards eight postdoctoral fellowships a year to early-career scholars committed to exploring their own vocations as theological educators, to advancing the well-being of the church in North America, and to envisioning together the future of theological education. The Louisville Institute Postdoctoral Fellow provides for the formation of ecclesiastically engaged academics for teaching and scholarship that serves the church and its ministries.