Leadership
The University of Dubuque Theological Seminary is directed by the Board of Trustees of the University of Dubuque. The President, Jeffrey Bullock, and Vice President for Academic Affairs and Dean of the Seminary, Mark Ward, lead the seminary in the fulfillment of its mission under the authority and direction of the Board.
---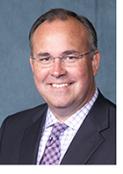 Jeffrey Bullock assumed the office of University of Dubuque President in 1998, after having served as vice president and dean of the seminary from 1996 to 1998. A message from President Bullock:
UDTS is one of the very few seminaries in America that is embedded in a vibrant and growing University setting. This larger University setting enables us to experience the world, in all of its complexities; from interacting with undergraduates over a coffee at "Sylvia's Common Ground" to cheering at a football game to leading worship at the undergraduate chapel, opportunities abound for seminarians who want to be immersed in the larger culture—our mission field. Read more...
---

Mark Ward, Dean of the Seminary, invites you to take a look at what Dubuque Seminary is all about:
The story of the University of Dubuque Theological Seminary first began in 1852, when a pastor began instructing a small group for ministry to German speaking immigrants moving into the Western frontier. Over the years, our language and modes of instruction have changed, but our central mission has not. We find our mission in God's mission of redemption and hope, preparing God's people for service to the church and world. Read more...