About Us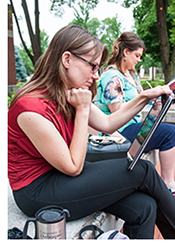 The University of Dubuque Theological Seminary, a seminary of the Presbyterian Church (U.S.A.), is committed to nurturing faithful leaders for the church. Our faculty members are committed Christians, well-published in their fields, with a passionate love for teaching and the church. Our beautiful and growing campus is located in the city of Dubuque, Iowa, a hilly, wooded community that was recently voted one of ten All-America cities.
What makes us unique? The University of Dubuque Theological Seminary has a clear mission focused on serving the one God— Father, Son, and Holy Spirit —by nurturing women and men for ordained and lay Christian leadership. The clarity of this vision is manifested in our programs.
Master of Divinity curriculum (distance or residential), which requires significant education in Scripture, theology, preaching, evangelism, and spiritual formation
Doctor of Ministry degree in congregational renewal
Master of Arts in Mission and Discipleship (distance or residential) degree program
Online Commissioned Ruling Elder Program
Our commitment to serving the church led us to launch, in 2007, a Master of Divinity Program available primarily through distance education. Committed to the Reformed theological tradition, we are an ecumenical school that honors different denominational traditions and embracing the vital life and teachings of the one, holy, catholic, and apostolic church.
On Mondays during the school year, we meet as a community for classes, worship, and table fellowship. Bible studies, prayer groups, fellowship and special-interest groups, choirs, bands, intramural sports, retreats, lectures, concerts, mission trips, and cookouts build up the body of Christ and offer times of recreation. Our Field Education Program places students in congregations and other ministry settings to develop skills for a lifetime of service.
The University of Dubuque is a lively and growing institution. In the past twenty years we have built spacious seminary townhouses, a bright and inviting library, a state-of-the-art technology center, a new teaching and administrative center, a recreation center, and a performing arts center. The Lester G. Wendt and Michael Lester Wendt Character initiative seeks to nurture the virtues of truthfulness, honesty, fairness, and the Golden Rule in every student at the University. New programs to serve Christ and the church have inspired growth in the seminary faculty, staff, and student body. We encourage you to find out more about us and to come for a visit.
---