Doctor of Ministry Application
Helpful application information is listed below.
GradCAS: Add Program
Once you create your account, it's time to add the program(s) you are applying for. Search for University of Dubuque to view all available programs from the University of Dubuque and the University of Dubuque Theological Seminary.
Standardized Tests
Standardized Tests are not required for admission into any of our programs, unless you are an International student. If you are an International student, please submit your TOEFL scores through GradCAS.
GPA Entries
Your GPA can be found on your transcript. You may select "I don't have a GPA to add" if you cannot remember your GPA but have submitted your Official Transcript.
Documents Section
Upload your most current CV/Resume into your application on GradCAS. Also upload a three to five page narrative statement that addresses the following topics:
A biographical statement describing your call to ministry
Explain your anticipated learning goals for participation in the DMin program
Recommendations Section
Request three letters of recommendation through the GradCAS application. References may not be related to you by blood or marriage. You may request up to 5 letters of recommendation.
From a Congregation Official: a letter that affirms its willingness to support your Doctor of Ministry work and an agreement to create a congregational resource team.
From a Judicatory Official: a letter that assesses your capabilities and endorses you as a Doctor of Ministry candidate.
From a Colleague in Ministry: a letter reflecting on your ability to undertake the Doctor of Ministry degree
References do not need to create an account; when the evaluation request is received, references can select "continue without account" directly below the "Create Account" button.
Please upload letters as PDF or Word Documents.
Interview
Please submit your completed application on GradCAS before contacting the UDTS Office of Admission to inquire about scheduling an interview. Interviews are required for admission, and will occur with either the Director of the Doctor of Ministry Program, Dr. Timothy Slemmons, and/or the Cohort leader(s).
Transcripts
Official transcripts are required for admission to our Doctor of Ministry program. Please follow the directions on GradCAS, making sure to select "I ordered my transcript" once you have done so.
If you attended the University of Dubuque Theological Seminary for your Master of Divinity degree, contact UDTS Admissions about transcripts.
Application Fee
Please note that the application fee, paid online at the time of application submission, is nonrefundable.
Background Check
Like many other theological institutions, the University of Dubuque Theological Seminary requires criminal history checks, including driving records, before an applicant's admission file will be considered complete and ready for review. This policy has been adopted to address the safety and well-being both of our Seminary community and of the churches, agencies, and other institutions that our students and alumni/ae serve.
Our checks will include these steps: verification of social security numbers; searches of state data bases for criminal histories, motor vehicle violations and sexual offender lists; and searches of county or other local jurisdictional criminal records of places of residence. The Seminary Admissions Committee may consider the impact of any offenses disclosed in these checks as possible grounds for denial of admission or matriculation.
In addition, we take seriously what applicants say about themselves. As a crucial part of the admissions and matriculation process, applicants provide several kinds of information about their personal and academic backgrounds. Either failure to make written disclosure of information which the admissions form requires or misrepresentation in the information supplied constitutes a prima facie basis for denial of matriculation. Where omissions or misrepresentations come to light after matriculation at the Seminary, the student is subject to dismissal.
The care we bring to our admissions and matriculation process recognizes that personal integrity and spiritual maturity are essential to good ministry. Yet we recognize also that no one is without sin, and that in the mystery of redemption even serious misdeeds have sometimes been a part of what leads a person to seminary. Moreover, we know people come to the attention of criminal justice systems for a variety of reasons - including not only the commission of crimes but also mistaken allegations, civil disobedience, and such systemic injustices as racism. Accordingly, no charge or past offense automatically disqualifies an applicant from matriculation. All records will be evaluated in context, and, prior to matriculation.
Background Check Instructions
Visit: https://www.castlebranch.com/online_submission/package_code.php
Use the following code: UB94
Contact UDTS Admissions at 563.589.3115 or UDTSAdmission@dbq.edu with any questions.
Admission Deposit
The University of Dubuque Theological Seminary requires a $100 admission deposit to confirm enrollment from admitted applicants planning to be degree-seeking students. The admission deposit is deposited into their student account, and applied to the first semester charges. The admission deposit is not refundable, and will be forfeited in the event the student does not attend the University of Dubuque Theological Seminary.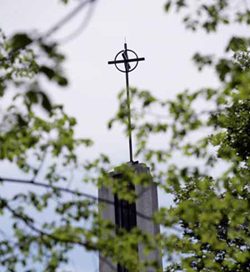 Connect with Kayla Schween, Director of Seminary Admission